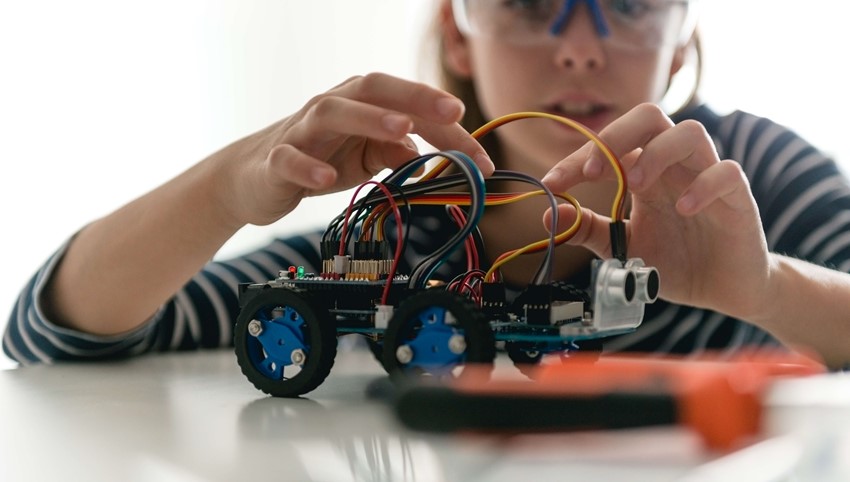 Authors
Jessie Reid, Admin & Marketing Coordinator, FPR Group
Rebecca Crouch, Technical & Engineering Recruitment Consultant, FPR Group
FPR Group has seen the engineering skills shortage first hand. Our Women in Engineering Week 2018 aims to explore what has been done to tackle the low number of women in the industry, and how far we still need to go to balance the scales.
Women bring valuable skills into the workplace and engineering is well known for suffering skills shortages. This valuable sector is missing out due to the low numbers entering the field… The reality is that engineering is suitable for everyone, whether it's keeping planes in the air, cars on the roads, trains on the tracks or building our next generation of satellites.

By Elliot, HR Director at leading aerospace company
According to EEF, only 10% of the UK engineering workforce were women, and only 7% engineering apprentices are female, despite a huge skills shortage in the industry.
Verity Davidge, Head of Education & Skills Policy at EEF, the Manufacturers' Organisation"Our latest skills survey carried out in 2017 found that on average, the gender split in manufacturing is 15% female staff and 85% male staff. Whilst this has improved since 2011 (12% female and 88% male), it shows that there remains lots of work to encourage more women into the sector."
With engineering jobs so abundant, and such a high demand for skilled workers, the UK engineering industry is missing out on a huge talent pool due to a lower proportion of women going into the industry. This effect is seen across the board, from lower engagement of women in higher-education engineering courses, to only 5.2% of registered engineers or technicians being female. Over the past few years, multiple 'Women in Engineering' campaigns have fought to balance the scales, with 2018 being officially dubbed the Year of Engineering to tackle the overall industry skills shortage.
There was a steady increase of women in engineering between 1993 and 2010, but there is still a very low percentage compared to other STEM subjects (information below sourced from NSF).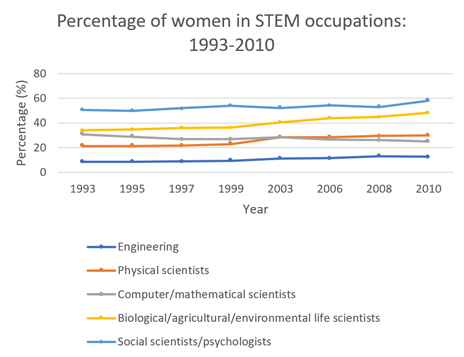 Recent Interventions
Year of Engineering 2018
Towards the end of 2017, the UK Space Agency teamed up with government and industry partners to celebrate "the world and wonder of engineering" (yearofengineering.gov.uk), as part of a year-long campaign to tackle the engineering skills shortage and encourage young people to join the profession.
When championing the huge variety of engineering careers available, the campaign's website states that: "not enough young people – especially young girls – think it's a world for them." The Year of Engineering takes a long-term approach, focusing on school engagement and early intervention to inspire the next generation of engineers.
Girlguiding UK
Girlguiding UK and Amey partnered earlier this year, after Girlguiding's research showed that only 3% of girls aged 7-10 would consider a career in engineering (2015). As part of this partnership, Rainbows, Brownies, Guides and Rangers will be able to achieve Innovate skills builder badges. Girlguiding estimates that over 150,000 girls will complete the Innovate skills builder every year, making huge strides towards correcting the perception of engineering in young women.
We need to be selling the word "engineer" better. Regardless of gender. An engineer does not mean the man that comes to fix the photocopier or boiler. You can be a roller-coaster engineer working at Thorpe Park, a live sound engineer working at Glastonbury, an engineer and space scientist helping send NASA missions to Mars or a footwear production engineer at Dr Martens. These are real jobs. Real jobs that the next generation – including girls – can be filling.

By Verity Davidge, Head of Education & Skills Policy at EEF, the Manufacturers' Organisation
And many more!
STEM
Women in Science and Engineering
Women in Engineering Society
STEMNET
Perkins Review
Robogals
Our plan
As we're approaching the end of the Year in Engineering, FPR Group's Women in Engineering Week will explore what has been achieved so far, how the industry has changed, and what still needs to be done. Read the next article here: What Current Students Think of Women Studying Engineering
We hope this can be a platform to encourage conversation, invite ideas and tackle this issue openly, so feel free to comment your ideas and share!