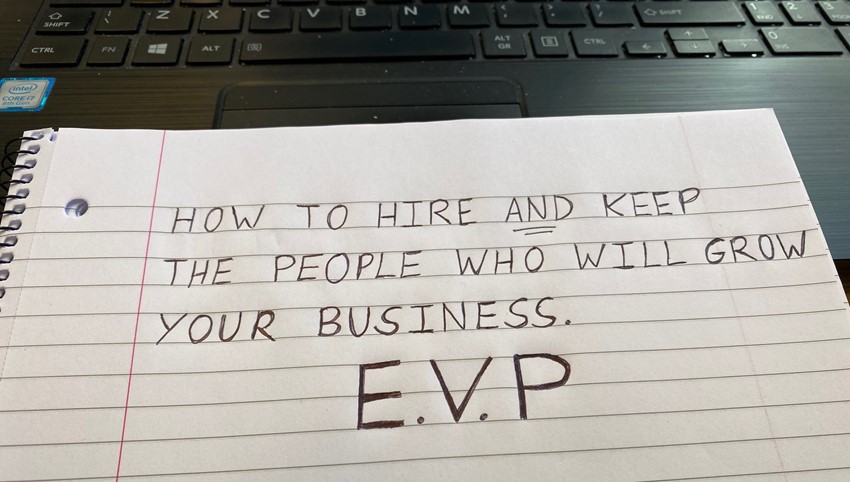 With an explosion of permanent vacancies to attract and retain talent many organisations are re-evaluating their Employee Value Proposition (EVP).
But what is an EVP and what should you consider when creating or enhancing yours?
An EVP tends to consist of the remuneration, benefits, package, culture, values, employee events, career progression and training you offer your employees in exchange for their talent, skills and drive they bring to your business.
Identifying the aspects that are unique to you, incorporating this within your brand and communicating it effectively (internally and externally) can be the difference between you hiring and maintaining talented people or losing them to your competitors.
Salary and traditional benefits such as pension contributions and healthcare are easy parameters to increase however this is not always sustainable and candidate surveys often show remuneration listed behind values and culture, management style, feeling valued, recognition, training and career progression.
Softer benefits can be greatly received, some examples being a day off on your birthday or flexible dress code.
Have a clear sense of direction and common team goal
A clear sense of direction, common team goal, an individual's understanding of their role within the team and how they can progress is a powerful combination. Where you are able to demonstrate and celebrate success stories within your EVP, they become an extremely attractive recruiting tool. Illustrating your culture and putting a spotlight on your people can be a magnet for other talented individuals, people want to work with other successful people and they help forge a strong team and culture.
What you stand for and how your values translate in to behaviours in your working environment has become increasingly more important to people especially Millennials and Generation Z. Clearly displaying your values and using value-based expectations whilst hiring, developing and appraising people can help you keep close to your values and importantly make them real.
I hope the above has provided some food for thought and I would be interested to read your thoughts or learn more about your EVP and what makes your company a great place to work?